NAKAKIN : Rotary Piston Pumps

NAKAKIN : Rotary Piston Pumps
Detail
・The Nakakin Rotary Piston Pump enjoys its smallest possible contact structure of rotor and casing: 70μm. This brings many advantages such as a gentle and high performance conveyance at low rotation speed, high suction power with constant liquid flow, and high performance in conveying high viscous products.
・High degree of cleanability, CIP/SIP capable.
■Manufacturer:Nakakin Co., Ltd (Japan)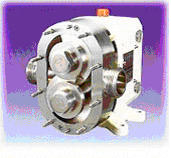 Spec
Please feel welcome to ask us a question or contact us with your requirement.